Looking to create a website with complete creative freedom and functionality?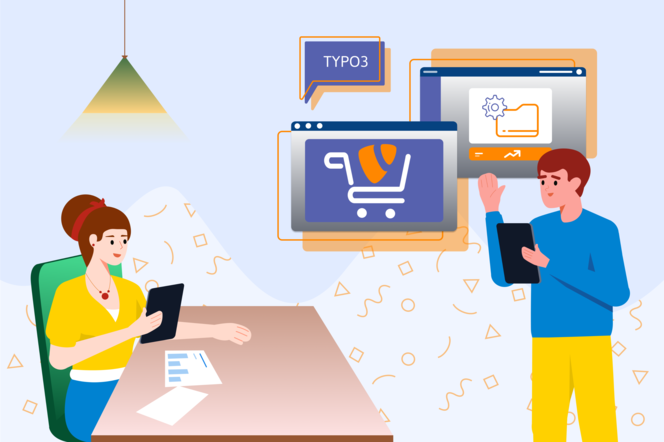 ---
TYPO3 is a user-friendly content management system that allows for easy website creation and editing without any programming skills. Its flexible nature enables it to support a wide range of web projects, such as websites, intranets, forums, and membership administration, through the use of various online extensions.
To ensure security, TYPO3 has a dedicated security team that works to identify and address any security gaps in the main system and extensions. Although TYPO3 can be complex due to its flexibility, users can customize the backend area according to their preferences. While it may not be the most beginner-friendly CMS, with some time and patience, users can learn to use TypoScript and Fluid, TYPO3's own programming languages, to make system-wide changes.
In addition, TYPO3 offers a multitude of features that make it a popular choice among developers and website owners alike.
In what scenarios is TYPO3 a viable option?
TYPO3 is a CMS designed for enterprise-level projects with intricate demands. These demands can be categorized into five sub-areas, as outlined below.
Asset Management. TYPO3's strength lies in its content management capabilities, which includes managing large amounts of data with high performance and stability, a powerful file abstraction layer for organizing files with meta-information, and the ability to utilize external storage services for data storage.

Languages and countries. TYPO3 has built-in features for localizing website content, including language and country variants, with convenient translation handling and multi-domain capability. No extensions are required for managing these variants, which are included in every core update. Multi-domain instances also allow for shared content maintenance across different country portals.

Rights and roles. TYPO3's role management is highly granular and allows for precise configuration of roles for different user groups through multiple authorization options. It is a core feature that can be applied to all extensions.

Workflows. TYPO3's workflow management, in conjunction with its role and rights management, allows for the implementation of various processes for the production, release, and publication of website content. This functionality is part of the TYPO3 core, ensuring seamless integration with other CMS features.

Interfaces. TYPO3's clean data storage allows for easy data exchange and access to desired data sets, with the ability to output data in various formats such as JSON and XML. This enhanced flexibility allows for easy integration with receiving agencies that require specific formats.
Safety

A reliable content management system that is consistently kept up-to-date with verification.

Flexibility

A constantly evolving CMS that remains receptive to new features and opportunities.

Strength

TYPO3 is capable of managing a large quantity of articles, videos, and various other forms of content.

Stability

A flexible and powerful CMS capable of adapting to any type of website.

Opensource

TYPO3 is an Open Source platform that is free and accessible to everyone, allowing for contributions, learning opportunities, and development potential.

Availability

TYPO3 has the flexibility to accommodate a wide range of website features, including but not limited to blogs, e-commerce, AJAX, SEO optimization, statistics, discussions, chat, newsletters, registrations, photo galleries, and video presentations.
Our team of the TYPO3 experts can handle projects of varying size and complexity, with long-term support and maintenance available. Our developers can handle both short and long-term projects. Projects can be started immediately with available team members.
Prior to commencing a project, WebGet Agency enters into a Non-Disclosure Agreement (NDA) with the client, ensuring that all client and project-related information is held in strict confidence. We seek prior approval from the client before disclosing any references or details of their web or software development projects. Our employees are also bound by a Non-Disclosure Agreement to prevent the sharing or leakage of any confidential information to any external entities.
In addition to regular communication with our team for updates, you will have access to all project files and resources. WebGet Agency strives to provide you with comprehensive services:
Source code (Gitlab, Github)
Your project management dashboard (YouTrack, Trello, JIRA)
Staging and production environment
Instant messenger support to talk to your team (Slack, Skype, Discord etc.)